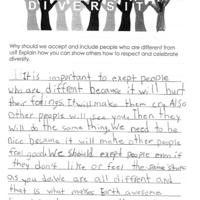 Want to know how to act? Ask a second grader | News
Kalina Long and Rylee Huebner, both second graders at Dixie Bee Elementary School in Vigo County, understand the importance of celebrating diversity and accepting those who may be different from them.
"We should accept and include everyone. Skin color doesn't matter because we are all different," Long wrote in an essay on diversity. "If someone with a disability doesn't have anyone to play with, join them. It's the right thing to do."
Huebner wrote in a similar essay, "We're all different and that's what makes Earth great."
Huebner also wrote, "It's important to accept people who are different because it will hurt them. It will make them cry. Also, other people will see you. Then they will do the same. We have to be kind because it will make others feel good."
Both recently received Diversity Writing Awards from the Vigo County School Corporation.
The sophomore competition began many years ago and in recent years has been sponsored by the Terre Haute Human Relations Commission. District sophomores celebrate diversity while showcasing their writing skills that were developed through weekly lessons with the district's writing team: Patty Curley, Sarah Freeze, Shelly Gardner, Melissa Sawyer and Sandy Sell. One student from each second year class was rewarded. Matt McClendon, VCSC Director of Civility, Diversity and International Exchange, presented the awards. He was accompanied by Frank Bailey, district reading and writing coach.
"Until this year, these second graders haven't had a 'normal' school year due to the pandemic," Bailey said. "The emphasis on positive interactions with others couldn't come at a better time."
The springboard for the competition consisted of two parts. The students listened to the story "All are welcome" and watched the video "Being different is beautiful". The writing coaches conducted brief discussions with their classes, then asked their students to write to a prompt: "Why should we accept and include people who are different from us? Explain how you can show others how to respect and celebrating diversity."
Second-graders were encouraged to use all the writing skills they practiced throughout the year: fluency of sentence, word choice, voice, organization, idea, and conventions. The winners were chosen by a committee.
Diversity Awards were held in schools over several days. "What you wrote is what I do every day," McClendon told the students. "It's about accepting other people, other people for who they are, so it doesn't matter if they're short or tall – whether they have no hair, mohawks, long hair – it's It's about accepting everyone and their cultures."
When he presented the award, he called for a "drum roll", with students pounding on their desks. "You all did an amazing job," he told all the second-graders. "I want you to keep thinking like that as you get older. Never, ever lose that."
The goal of the diversity writing contest is to encourage acceptance "and increase a sense of belonging, especially for new students," McClendon said. It's about practicing the Golden Rule of treating others fairly and with respect and "spreading love."
Long, a student in Cheryl Thornton's class at Dixie Bee, said that when she was "a little girl, I thought skin color mattered because there was a kid in my class and her skin was brunette. I thought I couldn't play with her, but then my mom told me that it doesn't matter what color her skin is and she's my best friend."
Sue Loughlin writes for the (Terre Haute) Tribune-Star.