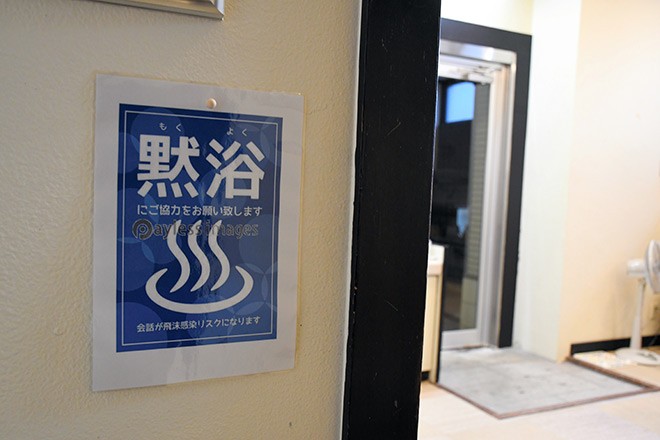 VOX POPULI: A semblance of "normal" life is finally coming back
If you were to ask people what they were forced to give up when the new coronavirus restrictions were in effect, many would likely respond to travel.
This is also my answer. But I ended up taking a two-day, one-night trip to a nearby onsen hot spring the other day, thinking I should be fine.
I bathed once before supper, once more before going to bed, and then twice the next morning. It was certainly more than usual, probably because of some kind of desire that I must have developed during the months of self-denial.
Between baths, I read "Onsen Hyakuwa Higashi no Tabi", a collection of essays and other works that describe trips to hot springs in the good old days, where everything moved at a leisurely pace.
According to author Kido Okamoto (1872-1939), onsen lovers of yesteryear greeted other visitors in the rooms bordering theirs upon arrival at the hostel, usually carrying a tray of gifts such as "amanatto" ( candied beans) and "konpeito" (hard confetti candies).
This is because an onsen stay at the time was partly for therapeutic purposes and lasted at least a week and could exceed a month. Guests got to know each other and exchanged greetings or chatted together in the hallways and the bathroom.
In some cases, they remained in close contact even after returning from travel, Okamoto wrote with affectionate nostalgia at the start of the Showa era (1926-1989).
Such a warm result can hardly be expected from a stay of a night or two, and certainly not during the COVID-19 era of public bath clients being invited to practice 'mokuyoku' (silent bath). .
Yet the government's months-long restrictions on people's lives, known as demands, are relaxed.
Food and beverage establishments are back to operating primarily during their pre-pandemic hours. I imagine some people stayed out with their drinking buddies until late for the first time in quite a while, following rules such as a maximum group size of four.
In the aforementioned onsen episode book, author Komimasa Tanaka (1925-2000) described the pleasure of trying an unfamiliar bar on a trip.
At first he felt a little nervous and out of place, but when a regular spoke to him he immediately felt "warm and fuzzy inside, like with the comforting vapor of a bubbling pot of stew" oden "."
Alcohol can help complete strangers relax and enjoy the company of others as a natural social lubricant. I wonder when such a scene will once again revert to "normal" life.
–L'Asahi Shimbun, October 26
* * *
Vox Populi, Vox Dei is a popular daily column that covers a wide range of topics including culture, the arts, and social trends and developments. Written by veteran writers of Asahi Shimbun, the column offers useful perspectives and insights into contemporary Japan and its culture.