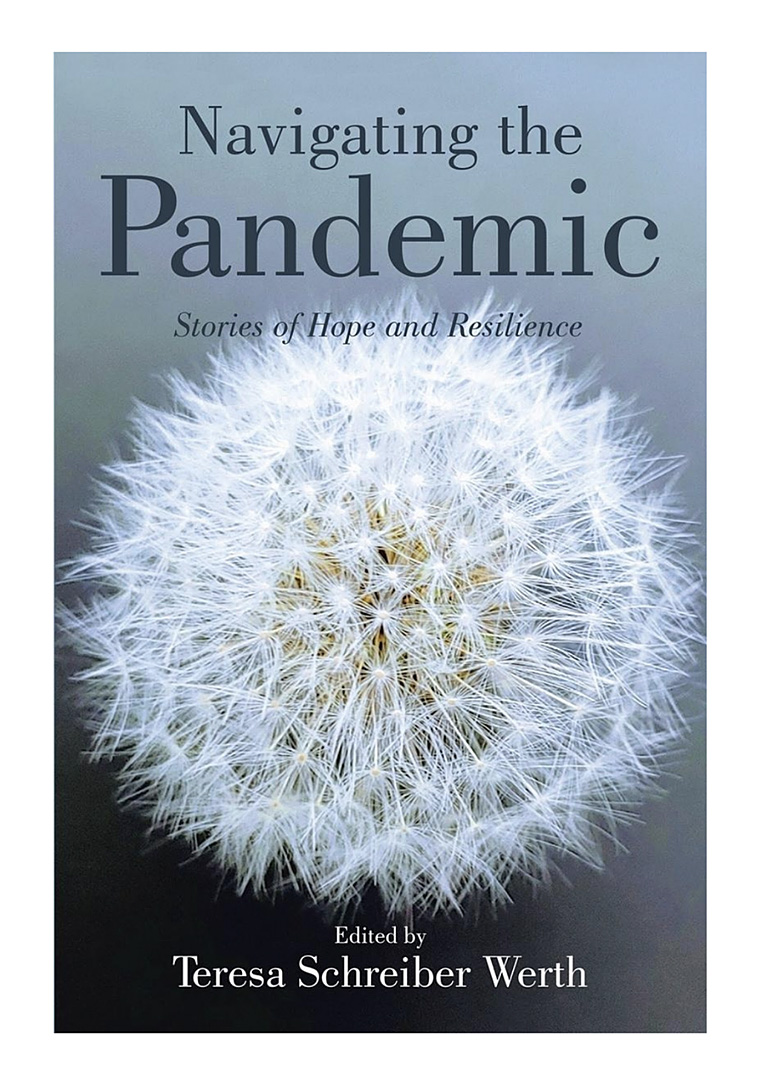 Stories of Hope and Resilience '• The Yellow Springs News
Despite being physically separated for much of 2020 and beyond, people have still managed to find ways to collaborate on creative projects during the ongoing pandemic. Connecting in isolation through alternative methods – by phone, mail, email, video conferencing – means that all distances are, in some way, equal. A writer from, say, Spencerport, NY can contact a choir director in Yellow Springs to help write a book.
That's what happened earlier this year, when New York writer Teresa Schreiber Werth collaborated with villager and World House Choir director Cathy Roma – among a host of others – to write, edit and assemble "Navigating the Pandemic: Stories of Hope and Resilience".
The book contains poems and essays by over 30 writers, including Werth, Roma, and villager Dawn Knickerbocker, as well as other Roma-related artists. The writers share a wide range of feelings engendered by the pandemic among the pages of the book – grief and fear, but also hope, joy and, at times, humor.


Werth, who spoke to the News by phone this fall, said the initial impetus for the book came from her experience watching and dealing with grief as a funeral celebrant.
"All I could think of was the families trying to cope with this horrific loss – not just the loss of lives, but the separation, the disappointment, the feeling of isolation," she said. declared. "It upset me, because I knew what these families were going through."
Werth said she also knew her own voice and perspective was not enough for the kind of book she was considering.
"I didn't have all the knowledge and expertise to deal with this new kind of loss and grief on my own, but I knew people who did," she said.
Having had a long career in public relations writing, Werth also has an established history of using writing as a means to navigate crucial stages in his own life.
"In 2009, I was diagnosed with stage three breast cancer, and my way of coping with that experience was by writing a book," she said.
This book, "Pink-On-Pink: Writing My Way Through Breast Cancer", a collection of poetry and prose, would ultimately lead to Werth's first collaboration with Roma. While undergoing chemotherapy, Werth listened to music from MUSE, the Cincinnati Women's Choir. At the time, the choir was conducted by Roma, who said they received an unusual request from Werth.
"[Werth] I reached out and said, "I've published a book about my struggle and I would like MUSE to order female songwriters to set any of the poems in the book to music," Roma said. "For 30, 45 years, that's what I did – women writing music – but I had never been approached by a poet. And I said, 'Why not? I'll try it! '"
The collaboration resulted in two songs: "I Am Forever Changed", composed by Elizabeth Haskins, and "You Were Meant for This", composed by Elizabeth Alexander, the latter having also contributed her own writing to "Navigating the Pandemic" .
In addition to Alexander, other artists from Roma's Creative Network have contributed to Werth's book, including Ysaye Maria Barnwell, a composer with whom Roma has worked in both MUSE and the World House Choir. Also included are lyrics to "To Propagate a Home" by Ayanna Woods, which was written in the aftermath of the mass shooting in the Oregon District of Dayton in 2019 and debuted that year by the World House Choir.
Another inclusion is the work of Guy Banks, an artist Roma has worked with since 2012. Banks, who is currently incarcerated in Columbus, performed under Roma's direction in The Kuji Men's Chorus, which was trained at the correctional facility. Marion. Banks is set to be released on March 25, 2022 and will become a villager himself: his first term as a student at Antioch College is due to begin on April 11.
Banks is a rapper and poet who performs under the name Tron. His contribution to the book, an improvised poem, reads in part:
"This time will reshape the minds of this generation / a virus declared war on all of us / kings, queens, rulers and presidents, convicted felons in all the same elements."
Roma's own essay for "Navigating the Pandemic", titled "Count It Joy: Making Music In Prison", details her joy in working with The Kuji Men's Chorus to perform "Hamilton" within the prison walls, in which Banks performed. played the title role. Roma's play also includes writings by some of the production's incarcerated actors, including Banks.
"It was a source of incredible joy and resilience, and I kept thinking about it as I thought about what I would write. [for the book]"Roma said." I wanted men's voices to be able to speak.
Werth said presenting a variety of voices was part of his ideal vision for the book, especially when it came to under-represented voices.
"The experiences of all these different groups vary so much, and that's what I focused on – getting input from a diversity of artists," she said. "One voice does not represent an entire group, but I wanted to improve the voices that I have [could access]. "
Werth praised the work of villager Dawn Knickerbocker, who contributed the "Our Bones Remember" essay to the book. In the essay, Knickerbocker describes her take on the pandemic as an Ojibwa woman, and the ways in which Indigenous history and the history of colonialism intersect with the history of mass illness and disease.
"For many of us, this is the trigger for trauma that is remembered," writes Knickerbocker. "Almost all of the population in the Americas has been reduced by more than 90 percent because of the disease. … And so on, our Aboriginal nations are no strangers to the danger that a pandemic can pose. Our bones remember. I remember."
Werth said she hopes that by recording people's thoughts on and during the pandemic, the book itself will be a telling of history.
"I hope the lasting significance of this book is that it will allow our grandchildren's grandchildren to understand some of what happened in the first four months of the pandemic, which was actually that the prologue to the whole event, "she said. "That's when people started to realize how drastically this was going to change their lives."
"Navigating the Pandemic: Stories of Hope and Resilience" edited by Teresa Schreiber Werth, was published by Page Publishing and is available at dandelionbook.com.