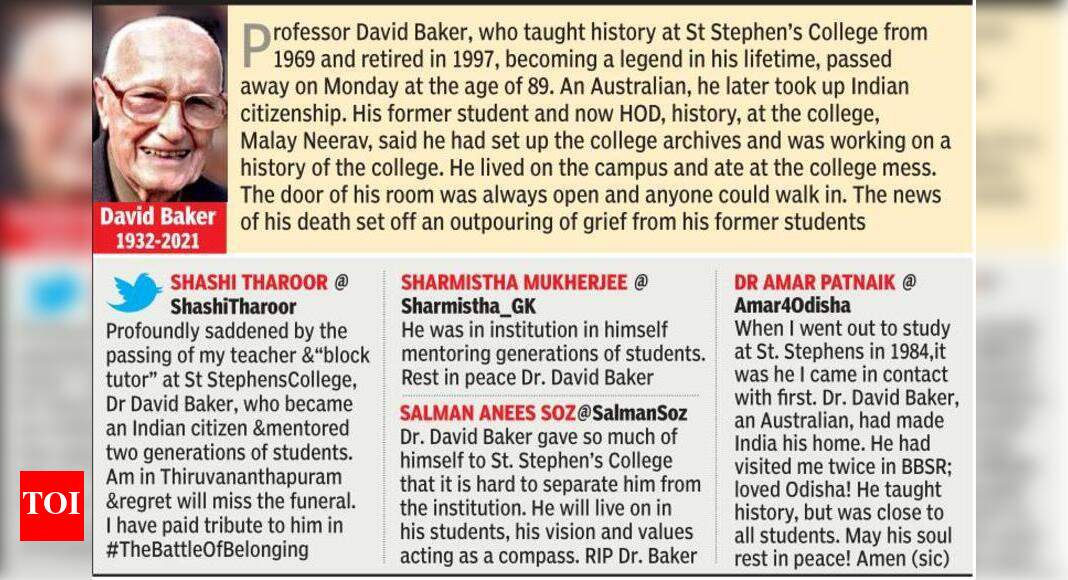 Dr David Baker: A legend that has passed through the generations, making history along the way | Delhi News
Many of us, at least those inclined to nostalgic nostalgia, may have read and enjoyed James Hilton's Goodbye, Mr Chips, published in 1934. Later turned into two films, including one with Peter O'Toole, he centers on the life of Mr Chipping, a quintessentially English school teacher who has taught generations of students in an English public school and has become synonymous with the institution. Chips, as it was popularly called, lived his life in school and, after his retirement, stayed and died in school. His life was the school and the students he raised.
I don't know if David Baker would have taken offense at being seen as a Chips-like figure in the rarefied environment of St Stephen's College – a distinctly odd, archaic, but highly respected figure. He had an incredibly soft voice, slightly nervous and with a distinct aversion to noise, and a follower of old-fashioned propriety. He was an Australian from when Australia was a mirror image of pre-war England, who came to India to write a doctoral dissertation on the national movement in the central provinces, then stayed in St Stephen's until the end of his life. He started out as a history teacher and eventually grew into an institution. In the future, he will become a legend.
I first met Dr Baker during my first year of undergraduate studies in 1972. He taught us British History, a very useful article that covered the Tudor period at the start of WWII. His approach was akin to that of a school teacher – nothing fancy, nothing extravagant, but cleverly conventional. This was associated with his tutorials, always kept in his neatly tidy rooms in Mukarji East. There he dissected our essays with a degree of cruelty that was at first disturbing but ultimately gratifying. In that first year, he helped us, more than anyone during my three years as an undergraduate, hone our
essay writing
skills. A 16-year-old who was making the transition from school to college needed a clear grip and direction. Dr Baker has helped us through the doors of higher education. Afterwards, we were alone.
His interest in us did not cease after his formal teaching responsibilities ended. He was the boulder tutor of Mukarji East, part of the university, those of us who resided in the more tumultuous south of Allnutt (now reserved for women) found it too quiet. But Dr. Baker's reach extended everywhere. The rather indulgent and always smiling Dr John Hala was nominally the dean, but it was Dr Baker who prowled the main hallways, stopping us to ask how we were doing and berating those who were out of line. He had acquired a moral authority that stemmed from genuine respect on the part of the students.
This interest in his students, past and present, has never ceased. When my son joined St Stephen's, where he also read history, in the 1990s, Dr Baker retired from his teaching duties, but he would dutifully inquire about me. He was the link between the generations – the familiar figure I looked for (aside from Rohtas in the dhaba) on the odd occasions when I returned to college for a function. It was fitting that he spent his last years creating the college archives, an exercise that must have allowed him to look back on a busy life.
In his mind, were we what we are now, or did he remember the awkward 16-year-olds striving to be adults?
Goodbye Dr Baker. You will always be remembered.
(Swapan Dasgupta
studied history at St Stephen's College, 1972-1975)